How to benefit from the €1 attic insulation offer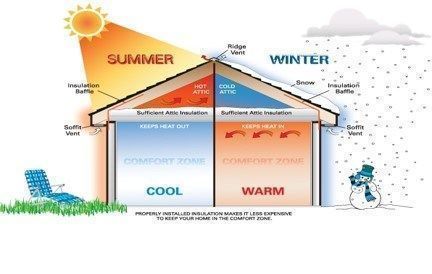 How to benefit from the 1 € attic insulation offer
Since 2005, the French government has been promoting the use of renewable energies by proposing offers that encourage consumers to sign up. It also pushes energy and fuel suppliers to direct their customers to save energy. One of these offers is the insulation of the attic to 1 €. Auchan offers attic insulation from 1 € since 2017. But how it works ? Is it a good deal ? How to know your eligibility ?
Why insulate the attic ?
A house with little or no insulation is 25 to 30% more likely to lose heat. When a home is not heated properly, it consumes more energy. You then live in conditions of total discomfort.
Whether it is the roof, the cellar or the garage, heat can escape if these places are not properly insulated. To compensate, your heater pumps more energy. You may be in for a big surprise when you receive your energy bill.
Auchan offers to treat the main sources of heat loss in your home by insulating your attic, your cellar / basement or crawl space at 1 euro or at an attractive rate if you are not eligible (all information here).
To take advantage of Auchan's €1 attic insulation or €1 garage, basement and crawl space insulation, you must meet certain eligibility criteria.
First of all, to access this offer, your home must be more than 2 years old and be in the list of eligible departments specified on the site.
Your tax income must be lower than the ceilings of certain resources imposed, depending on the number of people in your household. If you are in Île-de-France, your income must not exceed €51,288 in one year for a household of four people. For other regions, the amount must not exceed the 38,957 €. If your annual income is below these limits, you are eligible for a €1 attic insulation.
One of the conditions to take advantage of this offer is the engagement of a craftsman recognized as a guarantor of the environment. Auchan, through its subsidiary, offers craftsmen recognized by the RGE to carry out this work. In addition, they give you advice on the type and thickness of insulation suitable for your home for a good thermal resistance.
During the installation of your insulation, Auchan offers high performance and durable insulators so that your home has the expected thermal performance. You can choose between mineral wools (glass or rock) or polystyrene, which have strong energetic and economic properties. Their thermal resistance can reach the 7 sqm.
K/W for the lost attic and 3 m². K/W for the others. Moreover, the professionals proposed by Auchan not only find the right insulation for your attic, but they also propose the best solution for your project.
They can use mechanical blowing or install insulating panels depending on the place to insulate.
Individuals are the most advantaged by the offers of Auchan, because the insulating barrier allows to keep the heat in their home. They can regulate their energy consumption. It is even possible to get a reduction in bills of up to 30%. Insulating your attic with Auchan is another way to improve your comfort, but above all it puts you in line to get the best energy rating with the DPE, very useful if you plan to sell later.