Therapy camp with alternative medicine Foundation finances participation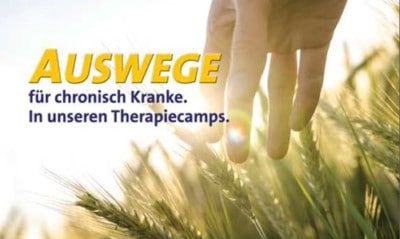 Foundation finances participation in alternative medicine therapy camps
The Auswege Foundation invites up to 10 chronically ill people in need to participate in a free therapy camp this year.
For nine days, the patients will be cared for by a 16- to 18-member team of helpers at the therapy camp, which includes doctors, alternative practitioners, psychologists, healers, educators and other professionals. Up to 20 different "alternative" healing methods are used in the therapy camp. Advice and treatment, care and information, accommodation and meals are all free of charge in each case.
Therapy camp location and conditions of participation
In an idyllically situated guesthouse in the middle of the Black Forest. The only conditions: demonstrable poverty and a discretionary donation, "from 1 cent upwards.".
The invitation is valid for up to 5 children and one relative in the "Auswege" family camp (10. to 18. August 2019) as well as for up to 5 adult patients with severe mental stress in a "Mind&Soul" camp of the foundation (21. to 29. September 2019). Registration deadline: one month before the start of each camp.
15th anniversary of the Auswege Foundation
Your action "We give medicine"On the occasion of its 15th anniversary, the Auswege Foundation is launching a campaign. Its name says it all: founded in 2005, it aims to provide therapeutic options for chronically ill patients who are considered "treatment-resistant".
This is done in unconventional healing methods, from homeopathy and acupuncture to meditation, spiritual psychotherapy, nutritional and life counseling, energetic massage and spiritual healing (s. www.foundation-ways out.de).
Health and best possible care for everyone!
"Health is a basic human rightt", explains its founder and chairman, the philosopher and author Harald Wiesendanger. "Consequently, every patient has the right to be cared for in the best possible way – in principle.
In fact, however, we have long experienced a two-class medicine. If you don't have the money, you only have what the statutory health insurance funds pay for – and that is predominantly conventional medicine, which largely fails, especially in the case of chronic conditions.
Proven alternative medicine, on the other hand, can usually only be afforded by the wealthy, either out of their own pockets or through expensive supplementary insurance. Against it our action sets a sign of the Mitmenschlichkeit."
Stiftung Auswege therapy camps in the past
Since 2007 already 30 "Auswege"-Camps took place. 518 patients (269 chronically ill and disabled children as well as 249 adults) participated, accompanied by 546 family members.
Diagnoses ranged from asthma and allergies, hypertension and diabetes to tinnitus, rheumatism, epilepsy and multiple sclerosis, anxiety and depression, ADHD, autism and schizophrenia.
118 "Auswege" helpers worked voluntarily, among them 14 doctors, 9 alternative practitioners, 6 psychotherapists, 28 healers, 24 other therapists and 22 pedagogical specialists.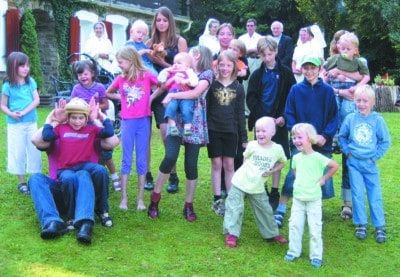 Four out of five children, and about 90 percent of the adult patients, made health progress during such camps as they had not for months and years before – both according to their own assessment in questionnaires and diaries and in the judgment of doctors present who carried out pre- and post-camp checks.