Fenugreek – is used as a medicinal plant and spice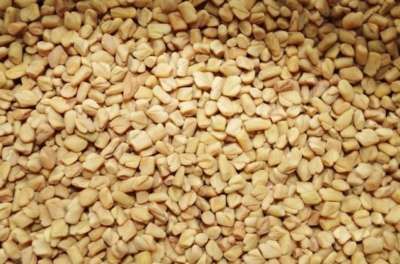 Fenugreek – medicinal plant and spice
Several positive properties are combined in the seeds of the ancient medicinal and cultivated plant with the expressive name fenugreek. It refines dishes as a spice and is successfully used for a variety of physical ailments, as studies and field reports show.
The small fenugreek seeds owe their name to their appearance, which is reminiscent of the shape of horns. To round out the naming: In botany, the medicinal plant is known as "Trigonella Foenum Graecum," and among the British and power athletes as "Fenugreek".
The latter group falls back on the testosterone-increasing effect, which is scientifically proven.
Fenugreek – the ingredients provide the effect
If you take a closer look at the ingredients of the plant, which is originally native to the eastern Mediterranean, you will find mainly mucilages, steroid saponins, bitter substances, vitamins, calcium, iron, magnesium, proteins and – albeit small – essential oil in the dried seed.
The mucilages provide health benefits by acting like a protective skin, soothing irritated mucous membranes and thus providing relief.
The steroid sarponins contained in fenugreek can have a positive effect on the blood count and thus have a cholesterol-lowering and blood sugar-regulating effect.
However, fenugreek offers the greatest success for a completely different – for many burdensome – problem: hair loss. Fenugreek can be used as a highly effective remedy for thinning hair.
Fenugreek seeds
Researchers suspect that the stimulating effect on hair growth is due to a harmonious combination of ingredients that seems to stimulate the cell structure of hair growth cells.
Furthermore, the proteins contained in the product are likely to strengthen the hair roots, thus allowing stronger hair to grow. After all, fenugreek has been used for thousands of years and, if historians are to be believed, with great success.
After the plant began its triumphal march to Europe, both Pastor Kneipp and Hildegard von Bingen used components of the herbaceous plant against all kinds of ailments.
They did not know at the time, however, that their studies would eventually confirm the effectiveness of its use. The stuff helped and was specifically grown for this reason.
How is buckhorn used?
The use of fenugreek depends on the symptoms of the disease. In case of loss of appetite, for example, a decoction prepared from the whole fenugreek seeds is recommended, while in case of an abscess or boil, the powder is more likely to be used.
For liver complaints, a poultice can bring relief; for hair loss, there are highly effective capsules filled with the powder of fenugreek seeds.