Orthoscoot foot relief rollator NH1 – the foot spared and active as usual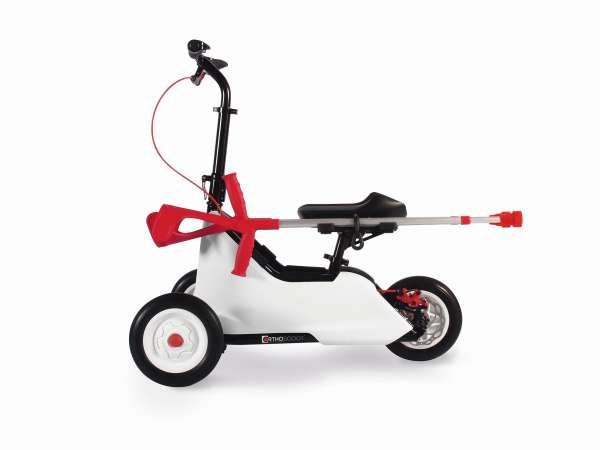 Orthoscoot – Foot spared and active as usual
Being able to move freely and independently is essential for participation in everyday life and for well-being. The innovative Orthoscoot foot relief rollator NH1 gives patients who have undergone foot surgery this freedom back as quickly as possible. In addition, it combines freedom with safety and medical benefits. Because it combines the advantages of a wheelchair, rollator and pedal scooter.
It makes its users independent of help from third parties, protects their foot from too much strain and helps reduce the risk of further operations. All this makes the Orthoscoot NH1 the optimal orthopedic aid for fast and, above all, safe convalescence. And thanks to its sophisticated design, it also cuts a good figure on the outside.
After surgery on the foot or ankle, it can be important to avoid putting weight on it and to avoid falls and re-injury. Conventional walking aids do not completely eliminate this risk, because locomotion with them is often unsafe, usually strenuous or can lead to muscle tension.
A wheelchair, on the other hand, promotes muscle atrophy during convalescence and usually requires the help of third parties. In any case, the patient's mobility is severely restricted.
The innovative NH1 foot relief rollator gets patients moving again quickly, safely and without discomfort
The Orthoscoot NH1, on the other hand, is both safer and more comfortable than crutches: the patient kneels with the affected leg in a height-adjustable, ergonomic shell, and pushes himself with the healthy leg. Three wheels, shock-absorbing tires with high-quality brakes and a robust frame provide the necessary stability.
The individually adjustable steering device allows easy and safe control. It allows the patient to walk longer distances as easily as safely. In addition, he has both hands free when standing. An invaluable advantage for those who want to get back to everyday life quickly, z.B. Mothers, professionals or competitive athletes. Crutches that a user needs for stairs or short distances can be easily attached to the Orthoscoot thanks to an individually mounted bracket. It can also accommodate smaller items in an additional storage space.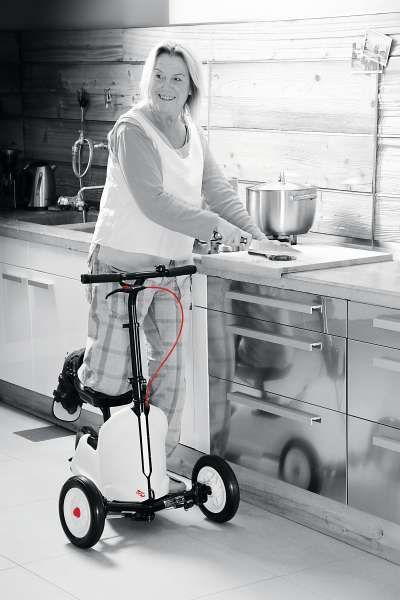 The orthopedic aid also represents a considerable relief in everyday life for all those who suffer from parallel illnesses in addition to a foot injury: Rheumatism patients, for example, who quickly lose muscle substance in a wheelchair, find it easier to stay physically fit with the foot relief rollator.
Similarly, for patients with multiple sclerosis, osteoporosis, or diabetes, who are in need of orthopedic aids at times. The orthopedic aid is particularly suitable for patients with obesity who, after a foot injury, are either unable to move at all or can only move with great effort using crutches. The NH1 also makes them mobile again quickly.
All in all, the Orthoscoot Foot Relief Rollator NH1 allows the injured or operated foot to be spared and at the same time remain active. In this way, it accelerates the healing process and optimally promotes regeneration. Patients can shorten hospital stays, resume their usual activities earlier and save themselves follow-up treatments. In the end, the Orthoscoot relieves more than just the foot.
About Orthoscoot – More mobility with safety:
Orthoscoot GmbH, based in Neusäss/Vogelsang near Augsburg, was founded in 2013 by Andreas Hertle. In collaboration with leading specialists, he has developed the Orthoscoot NH1 foot relief rollator. The novel orthopedic aid has been accepted and certified by technical testing organizations.
The goal of Orthoscoot GmbH is to produce medical aids for those who are limited in their mobility. It claims to combine medical benefit with good design. Orthoscoot GmbH is the only company in Europe to offer such an aid. Patients can buy the foot relief rollator or rent it by the week through an innovative rental system. It is available from the manufacturer and is supplied by medical supply stores.